EATON Crouse-Hinds - IHB Industrial High Bay LED Luminaire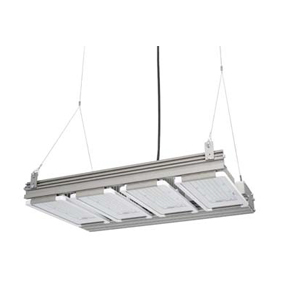 REQUEST QUOTE
VIEW BROCHURE
IHB Industrial High Bay LED Luminaire
Perfect replacement for 400-1500 watt HID or 4-10 lamp T5HO fixtures


PRIMARY APPLICATIONS
IHB LED luminaires are the perfect replacement for 250W-1,500W HID and 4-10 lamp T5HO fluorescent high bay fixtures. Designed for locations requiring continuous and consistent light levels, requiring frequent on-and-off of lights and that is difficult to relamp or causes production to be stopped during the lamp maintenance process..


DESIGN FEATURES
A. Increased efficiency - Up to 117 lumens per watt.

B. Multiple mounting options - Available with pendant, aircraft cable or jack chain mounting.

C. Aluminum heat sinks for superior thermal management.

D. Multiple lens options - Tempered and clear glass standard, diffused glass and clear or diffused polycarbonate options available.

E. Optional occupancy sensor kit available.